ZEROVA Technologies, a leading electric vehicle charger maker, today announced its DS Series and DD Series EV chargers are now ready for commercial use in the German market, after successfully achieving Eichrecht certification. Starting from August 1, this certification ensures that the DS and DD Series meet the stringent requirements of the European country's regulations, including those surrounding end user data during secure charging and calibration of energy metering.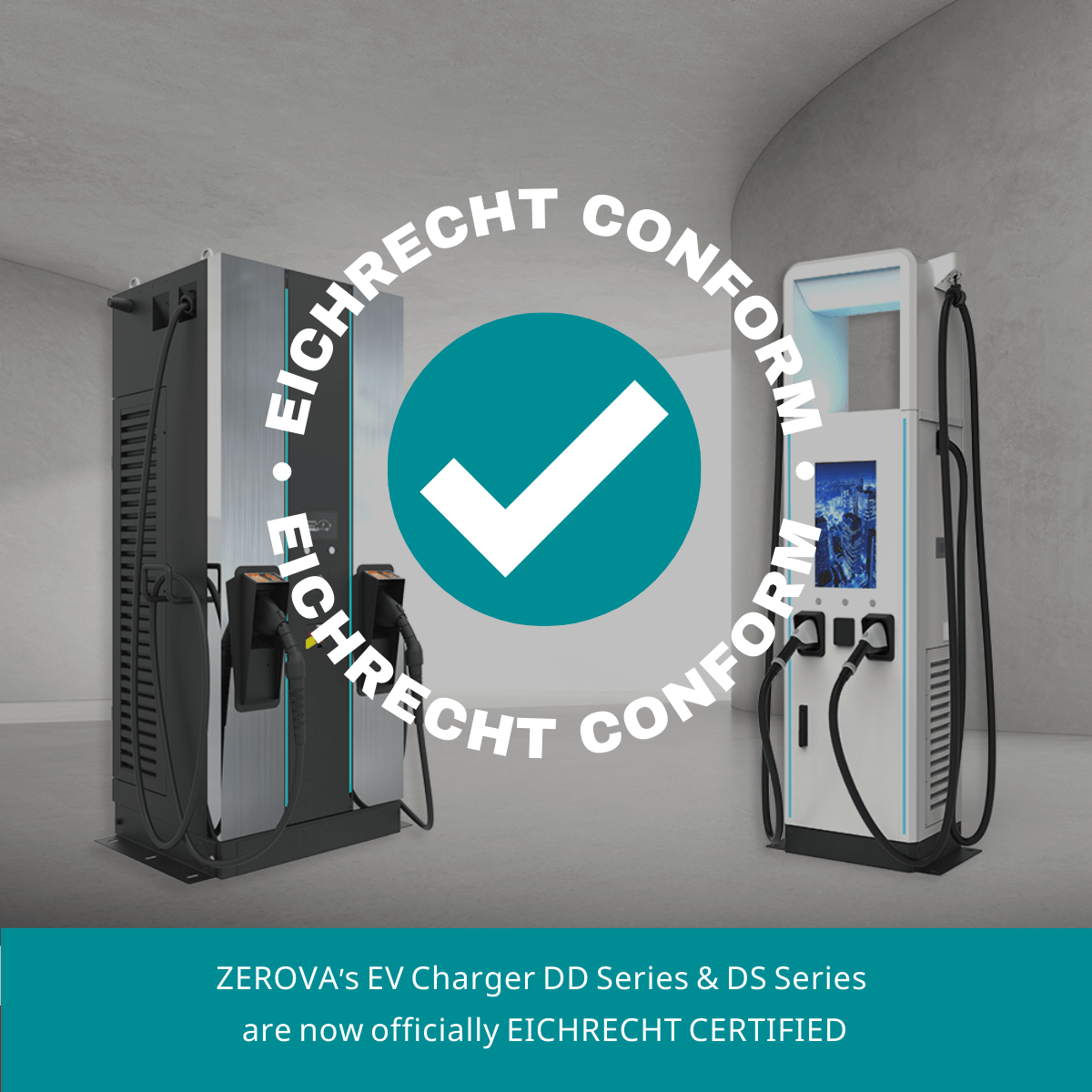 As a mandatory requirement for charger manufacturers selling chargers for commercial use in Germany, Eichrecht certification is established under the German Weights and Measurement Act, a German law that defines the requirements for all
measuring devices such as petrol pumps and electricity meters. ZEROVA's obtaining the certification ensures that the DS and DD Series have a certified energy meter that correctly calibrates the kWh energy used and physically displays this value to consumers. It also indicates that they uphold standards for end-user data protection, as the charging stations encrypt information before sending it to other systems to prevent third-party access.
"Energy calibration and maximum security for end users are crucial for today's EV charging solutions," noted Steve Smith, CEO at Zerova Technologies Europe B.V. "We are thrilled that German regulators agree that our charging stations deliver in these key areas, and we look forward to what the future holds in Germany and the broader EU region."
▲ZEROVA obtained many EV safety certification for different market
The DS Series is a versatile, free-standing DC charger equipped to meet diverse charging needs. Power options span 60 / 90 / 120 / 150 / 180kW and it supports CCS, CHAdeMO, and GB/T multi-charging standards, even allowing for two end-users to simultaneously charge their vehicles. For a user-friendly experience, it is equipped with a 7-inch LCD screen, and the exterior offers IK10/NEMA 3R protection (Not including screen and RFID module) and is IP55 certified.
For next-level power and resilience, the DD Series offers DC-charging power options ranging from 180 to as high as 360 kW. Built for outdoor environments, it is designed to endure a variety of conditions. An upgrade is available to allow for up to four DC charging ports, making it capable of simultaneous charging at up to 360 kW.
Additionally, the connectors are liquid-cooled and can handle up to 500A, ensuring the resilience to maintain maximum efficiency and power.
To ensure that charging solutions are tailored to clients' needs, ZEROVA has a global presence to collaborate closely with its customers.
About ZEROVA Technologies
ZEROVA Technologies Co., Ltd., a subsidiary of Phihong Technology Co., Ltd., is committed to providing integrated electric vehicle charging solutions for the global market. With decades of rich ODM/OEM experience, industry knowledge, technical capabilities, and proven manufacturing quality, the brand designs diverse, highly customized products and services suitable for international customers from different industries. With offices in Europe, the United States, and Asia, ZEROVA has a global presence, and more than 60,000 charging sites around the world are using ZEROVA's charging solutions.